Useful Books
​Social and Emotional Themes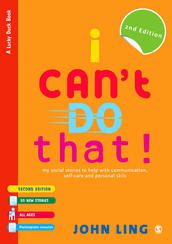 ​I Can't Do That by John Ling
​This book introduces you to the concept of social stories which are a positive and practical way to help children with special educational needs who are struggling with social rules and conventions.  The new edition of this book has over 90 examples of social stories, including over 30 new stories and also contains a new section on why social stories are important, how to use them in your setting and how to write your own social stories.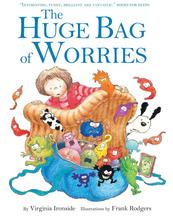 The Huge Bag of Worries by Virginia Ironside
​Wherever Jenny goes, her worries follow her – in a big blue bag.  They are there when she goes swimming, when she is watching TV, and even when she is in the lavatory.  Jenny decides they will have to go.  But who can help her?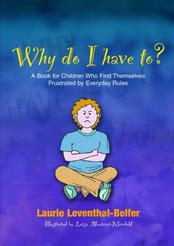 Why do I have to? A Book for Children Who Find Themselves Frustrated by Everyday Rules by Laurie Leventhal-Belfer
​Dr Laurie clearly understands how children with limited flexibility and difficulty coping, think and respond.  She has used her clinical experience to teach us how to help these children succeed.  Dr Laurie has provided a format, similar to Social Stories, for reducing stress in daily life and for minimising conflict stemming from unwritten or everyday rules.  While there is no one solution for every child, the stories can be easily adapted for each child.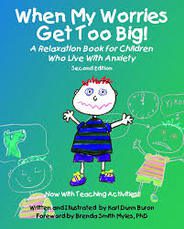 ​When My Worries Get Too Big! A Relaxation Book for Children Who Live with Anxiety by Kari Dunn Buron
Worry and anxiety are on an upswing.  In fact anxiety is the most frequent of all mental disorders in children.  Now with a special section on evidence-based teaching activities for parents and children alike, this bestselling children's classic just became even better and more relevant.  Engaging and easy to read, this illustrated book is filled with opportunities for children to participate in developing their own self-calming strategies.  Children who use the simple strategies in this charming book will find themselves relaxed and ready to focus on work or play.​
​Autistic Spectrum Disorder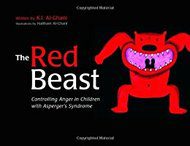 The Red Beast: Controlling Anger in Children with Asperger's Syndrome by K.I AL-Ghani
Deep inside everyone, a red beast lies sleeping.  When it is asleep, the red beast is quite small, but when it wakes up, it begins to grow and grow.  This is a story of a red beast that was awakened.  Rufus is in the school playground when his friend John kicks a ball that hit him in the stomach, and wakes up the sleeping red beast: 'I hate you – I'm going to sort you out!' The red beast doesn't heat the teacher asking if he's OK.  It doesn't see that John is sorry – how can Rufus tame the red beast?​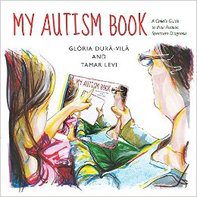 My Autism Book: A child's guide to their Autistic Spectrum Diagnosis by Gloria Dura-Vila and Tamar Levi
My Autism Book is a beautifully illustrated picture book that helps parents to explain an autism diagnosis to their child in a sensitive, positive and accurate way.  When a child is diagnosed with an Autistic Spectrum Disorder (ASD), parents often feel overwhelmed and uncertain about how to communicate the diagnosis to their child.  This book is designed to be read with the child as a simple introduction to their diagnosis.  Written by a doctor and a children's author.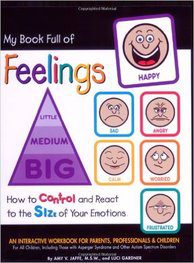 My Book Full of Feelings by Amy V. Jaffe and Luci Gardner
This highly engaging workbook is an ideal way to help teach children to identify, assess the intensity of and respond appropriately to their emotions. The book is fully interactive.  By using a dry-ease marker, unique situations and solutions can be added and changed with a wipe of a paper towel, as the child masters a skill and grows.  Also included is a Communication Pad for tracking and sharing information between home and school – an important component of effective programming.  The book is great for all children, including those with Asperger Syndrome and other Autistic Spectrum Disorders.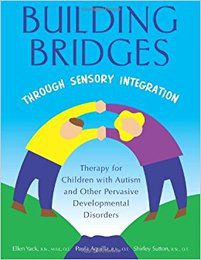 Building Bridges Through Sensory Integration: Therapy for Children with Autism and Other Pervasive Developmental Disorders by Ellen Yack
Written by three experienced occupational therapists, this book offers a combination of theory and strategies.  It is a perfect tool for those working with young children, but also broad enough to be adapted for older children and adults.  Building Bridges provides creative and practical advice for dealing with everyday challenges, including managing behaviours, improving muscle tone, developing social skills, selecting diets, and more.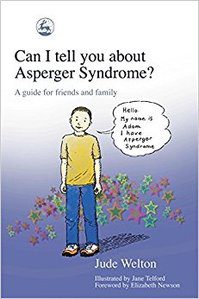 Can I tell you about Asperger Syndrome? A Guide for Friends and Family by Jude Welton
Meet Adam – a young boy with AS.  Adam invites young readers to learn about AS from his perspective.  He helps children understand the difficulties faced by a child with AS – he tells them what AS is, what it feels like to have AS and how they can help children with AS by understanding their differences and appreciating their many talents.  This illustrated book is ideally suited for boys and girls between 7 and 15 years old and also serves as an excellent starting point for family and classroom discussions.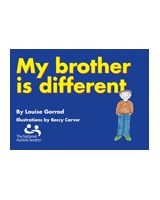 My Brother is Different by Louise Gorrod
This is a book for young children who have a brother or sister with Autism.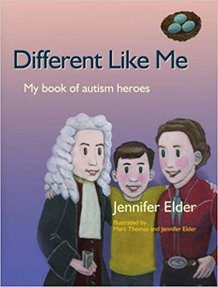 Different Like Me: My Book of Autism Heroes by Mark Thomas by Jennifer Elder
Different Like Me introduces children aged 8 – 12 years to famous, inspirational figures from the world of science, art, math, literature, philosophy and comedy.  Eight year old Quinn, a young boy with Asperger Syndrome, tells young readers about the achievements and characteristics of his autism heroes, from Albert Einstein, Dian Fossey and Wassily Kandinsky to Lewis Carroll, Benjamin Banneker and Julia Bowman Robinson, among others.  All excel in different fields, but are united by the fact that they often found it difficult to fit in just like Quin.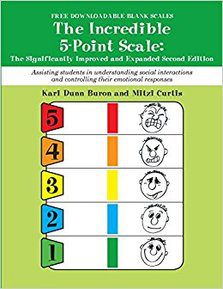 The Incredible 5 Point Scale by Kari Dunn Buron 
This much-awaited second edition of the popular Incredible 5-Point Scale is, as the title suggests, significantly improved and expanded.  Using the same practical and user-friendly format as the first edition.  Buron and Curtis let readers benefit from work done with the scales over the past 10 years, to result in refinements to the original scales, now considered to be classics in homes and classrooms across the country and abroad, as well as lots of new scales specifically designed for two groups of individuals\; young children and those with more classic presentations of autism, including expanded use of the Anxiety Curve.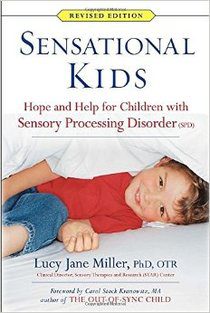 Sensational Kids: Hope and Help for Children with Sensory Processing Disorder by Lucy Jane Miller
​Attention Deficit Hyperactivity Disorder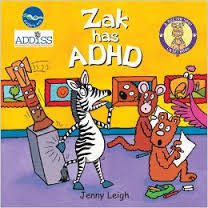 Zak has ADHD by Jenny Leigh